By Shekhar Sahu on 06 January 2010 9:59 PM
Backlink, Blogging, Copy Cats, Copy Protection, Copyescape, Dofollow Backlink, Protect, Protected Blog, Safe Blogging, Trace, Tracing, Track, Tynt, Tynt Insight, Tynt Tracer, Tynt Tracing
Tynt Insight

Even I pay my 5 to 6 hours for writing a post, designing the images and finally the best of search engine optimization.
Bloggers analyze that their sites are not being indexed by search engines properly! Why?
Because search engines find the duplicate posts, because this has been copied by copy cats. Oh yes search giants are capable to manage this but not all search engines and not always. The post you generated is used by others if without credit isn't it a big issue to bother you? (How does Chetan Bhagat thinks about the "3 idiots")
Some of you may be thinking about
Copyescape
, No I will not talk about this now.
Copyescape just tracks and notifies if your content has been copied.
But here I am going to talk about how to
generate more traffic
from copycats and get some link juice too to increase your
page rank
:))
Too much bak bak for now!
It's Tynt - Tynt Insight, which generates a backlink after the content which has been copied by someone on his site. Isn't that great?
With Tynt Insight You :
Get more traffic.
Increase Search Engine Ranking.
Get Credit of Your Content.
See what sites are using your content, but actually promoting your content :)
Analyze the visits from those websites.
More CPM hence more money.

This tool can very well detect the copied images and trace the websites. The best thing is, It's Free.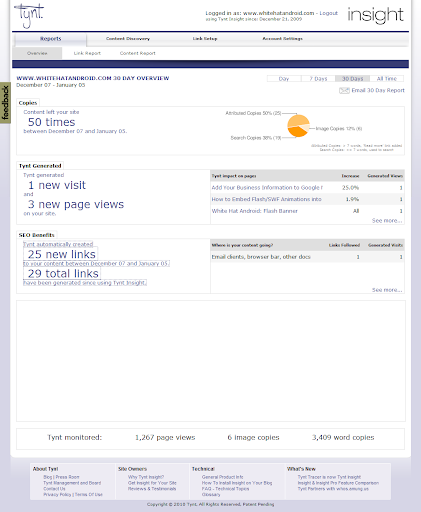 How to install it in your website or blog?
Visit Tynt.com and register your domain not the sub domains (without WWW.)
Then get the script for your domain after the registration

Paste the script code into your blog.
That's all. Now you have to keep an eye if somebody copies your blog. Even there is no need to worry for that too. Because you are getting backlink, more traffic, increase in page rank and finally you can regulate the copycats. Hope you liked the product of Tynt Inc.
Don't forget to share your views, opinions and experience here in the comment field. How do you manage these copy cats? Do you have any other suggestions about the protection of blogs? Have you heard of "White Hat Copycats system :)"?
Shekhar Sahu