By Shekhar Sahu on 28 March 2010 1:46 AM
Blogger, Blogspot, Buzrr, Buzrr Button, Buzrr Buzz, Buzrr Counter, Buzzr, Google, Google Buzz, Google Wave, Njuice, Reader, Tweetmeme, Wave, wordpress, Wordpress Plugin
Njuice vs Buzrr
Google Buzz : Add Google Buzz Button With Counter On Your Blogger or Wordpress Websites/Blogs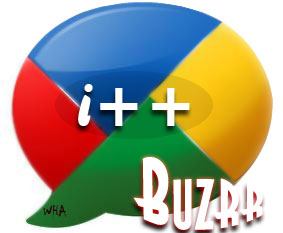 Google Buzz has got  huge interest in the cloud. Particularly for bloggers and webmasters, It's the best  network to wave your stuff around the globe. Google Buzz has higher potential than Twitter. And, Google Wave couldn't benefit much:( Just added some RSS feeds and URLs to a RSS Collaboration topic in Google Wave yesterday.
So anything you post on Google Buzz goes viral :~


It's now essential to put a Google Buzz button on every website. And if you want to add button with counter you will have to rely on third party scripts. There are two major websites which provide the code for Google Buzz Button both for Blogger and Wordpress.