By Shekhar Sahu on 28 March 2010 1:46 AM
Blogger, Blogspot, Buzrr, Buzrr Button, Buzrr Buzz, Buzrr Counter, Buzzr, Google, Google Buzz, Google Wave, Njuice, Reader, Tweetmeme, Wave, wordpress, Wordpress Plugin
Njuice vs Buzrr
Google Buzz : Add Google Buzz Button With Counter On Your Blogger or Wordpress Websites/Blogs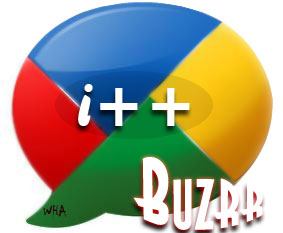 Google Buzz has got huge interest in the cloud. Particularly for bloggers and webmasters, It's the best network to wave your stuff around the globe. Google Buzz has higher potential than Twitter. And, Google Wave couldn't benefit much:( Just added some RSS feeds and URLs to a RSS Collaboration topic in Google Wave yesterday.
So anything you post on Google Buzz goes viral :~


It's now essential to put a Google Buzz button on every website. And if you want to add button with counter you will have to rely on third party scripts. There are two major websites which provide the code for Google Buzz Button both for Blogger and Wordpress.



Njuice
The first one is Njuice, Njuice has 6 different buttons to match the layout/style sheet of your site properly. Blogger/blogspot users can get code & Wordpress users can download the plugin from
http://njuice.com/button

Buzrr

It won't be wrong if I say Buzrr is equivalent to Tweetmene. Because this also publishes the latest trends, and popular channels. According to me Buzrr is the best option available. This has 22 different designs of the buzz button. They will make the best match for your site. Dennis Hettema has developed this tool.


I recommend this site because it allows advanced users to tweak the code accordingly.

Wordpress users can download Buzrr Plugin from
http://wordpress.org/extend/plugins/buzrrcom-button-plugin


Featuring two buttons from Buzrr.com
Blogger Blogspot Users:
Goto blogger Layout>HTML and search for the code
<div class='post-header-line-1'/>
And paste the following code below this.
1) Small Button
2) Big Button
You can check more buttons from
http://buzrr.com/buttonselect.php
and add on your blog/websites.



So friends keep buzzing and increment the number of buzzes but, don't try to spam these tools. What's your favorite Buzrr or Njuice?
Google's HTML5 Animated Logo, Best Doodle Ever