By Shekhar Sahu on
06 November, 2010 at 3:34 AM
Filed Under: Facebook, Facebook Apps, Facebook Fanpage, Facebook Friends, Facebook Groups, Facebook Suggest, Fan Page, Internet, Javascript, Tips, Tricks, Web
Select All Facebook Friends at Once Using A Simple Javascript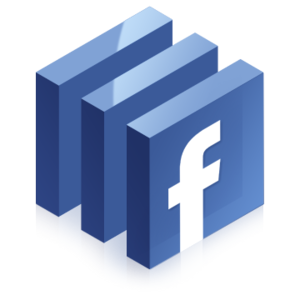 If you are reading this article, you must be having a
Facebook account
. If you haven't got a facebook account yet, tell me from which world you are? The key to fastest growing user base is how facebook manages to hook people with community pages, fan pages, groups and the applications. You must have tried the
"suggest to friends"
feature, bloggers mostly do, to suggest something you found very interesting such as our facebook fanpage
facbook.com/whitehatandroid
to your friends. But then you need to click on each of your friends from the list to select. This becomes tedious if you want to select all friends, and especially when you have hundreds, thousands of friends in your network. Recently I came to know about a chrome addon,
which can be used to select all friends at once,
on my friend's blog. Then I started finding more behind that addon.
Then I learnt about a javascript of two words in size. Using which will help you select all the friends from the dialogue box at once.
1. Go to the facebook page, group or application you want to suggest you to friends. For now you can try
facbook.com/whitehatandroid
and click on "suggest to friends" link. Suggest to Friends link can be found beneath the profile image. A dialogue box will appear and prompt you to select friends individually and write a message(optional).
2. There we are! Now in the address bar type or copy and paste this >>

javascript: fs.select_all();


javascript:elms=document.getElementById('friends').getElementsByTagName('li');for(var fid in elms){if(typeof elms[fid] === 'object'){fs.click(elms[fid]);}}
replacing the previous address of address bar and hit enter.
Gosh!! all friends selected at once.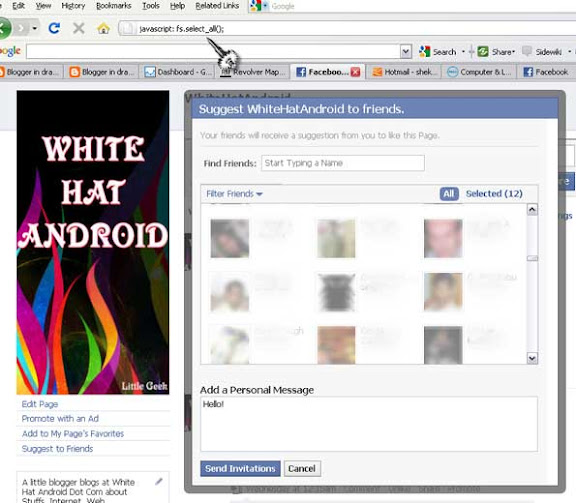 3. Now click on send invitation button to share best stuffs to your facebook friends.
Script
javascript:elms=document.getElementById('friends').getElementsByTagName('li');for(var fid in elms){if(typeof elms[fid] === 'object'){fs.click(elms[fid]);}}
Don't forget to tell this trick to your friends and surprise them. Save this article and share with friends using the share button above.
Did you like the trick? Do you have any facebook trick you would like to share with us?
Join our facebook fanpage
facbook.com/whitehatandroid
and subsrcibe to RSS feed to get daily dose of tech.
Enjoy!
Shekhar Sahu
Hand Picked Related Posts
Low Cost Access Cum Computing Device #Indian iPad Rival
Klite Full Codec Pack- Ultimate Collection for Media Junkies
Google Input Method Editor IME- Writing in Regional Languages Made Easier
Bharti Airtel All Set to Launch 3G Services in India
Download YouTube Videos Without Installing Any Software
Skype 5.0 Released With Massive Facebook Integration
5DFly Free Photo Editing Software
DosBox Run 16 bit Dos Games & Programs in Windows 7/8/Vista in Full Screen
Facebook Unveils New Facial Recognition System For Facebook Images
Scan Virus Malware Phishing Links in Facebook News Feeds with @Norton Safe Web from Symantec