KnowURL Protect Yourself from Short URL Attacks

URL shorteners
are the web services which makes the Alias of long URL. They provide you a very short URL which can be used to link in place of the original one. This makes it easier to share long links of Twitter, SMS etc, where you have limit of characters. But since you don't know the exact address hidden behind the shotened URL, you might be cheated and led to malware, phishing sites. Which may download virus, spywares and scripts. Some Shortener like
Bit.ly
and
Goo.gl
scan the link before shortening. But all don't have such feature.
Recently my friend Abhi who blogs at
techbusy.org
launched KnowURL which lets users submit and know the original URL behind it.
This tool shows the extracted URL after redirection of Short URL. KnowURL will help to keep us safe from any kind of hacker attacks active on social media.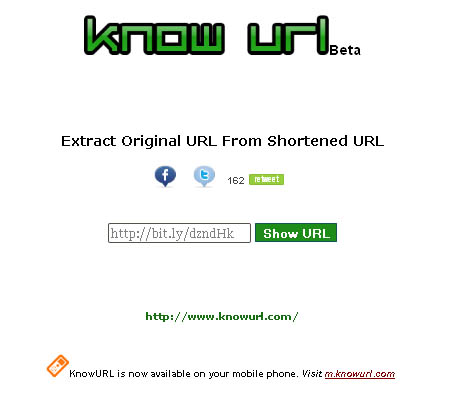 They have developed a nice website both web and mobile version. Currently
KnowURL
supports all URL shorteners. This is already buzzing in web. Do check every URL alias before visiting the link and prevent hacker's attack.
---
What More Do You Want?
---
I would like to suggest Abhi to include a flagging feature, so that if someone finds a URL to be leading to malwares than users can flag it blacklisted for ease of others.
If knowURL collaborates with some Open Source security database such as urlblacklist.com and
shallalist.de
which collects the blacklisted and spam links, so that knowURL can warn users that the short link is blacklisted.
If you have any suggestion for KnowURL than use the comment box below. KnowURL will listen to you.
Web
KnowURL.com
Mobile
m.KnowURL.com
I hope you get benefits from this tool. Did you like it? Did you ever get any attack from short URLs?
Your Friend
Shekhar Sahu
---
Also Read
---
Use Google's URL shortener Goo.gl with Feedburner & Twitter
MURL The Master of URL Shorteners
Bit.ly More than a URL Shortner
Linkedin Launches it's Native URL Shortener lnkd.in
Twitter Launches it's Native URL Shortener twee.tt
All Posts about URL Shortener