By Shekhar Sahu on 17 June 2010 2:19 PM
ACID 3, application, Browser, CSS, Fastest Browser, Free Download, geolocation, HTML 5, Opera, Opera 10.60, Opera 10.60 beta, Opera Link, Opera Turbo, Opera Unite, Software, Web, WebM
Opera 10.60 Beta Fastest Browser on Earth Released
Tests have proofed that Opera is now the fastest browser in the world. Yesterday
Opera released Opera 10.60 beta
to public which promises 50% faster in JavaScript test than it's predecessor, which was already the fastest browser.
Opera 10.60
features the new web standards like GeoLocation,
HTML 5
Video with WebM, attractive icons, smart search, better previews, wide speed dial, mouse gesture based navigation and many more. The browser is available for Linux, Mac & FreeBSD as well.
However people (or some of you) don't agree, actually they think that their favorite browser is the fastest one. Even they don't systematic benchmarking system and software, to support their statement. You can't deny the fact that Opera scores maximum in the ACID 3 test, one of the most popular browser benchmarking system (Industry Standard).
Opera is not only faster but highly optimized for the congested networks with it's Opera Turbo. I have only a GPRS connection, which hardly gives speed of 1kBps to 2 kBps, and Opera Turbo works fine for me.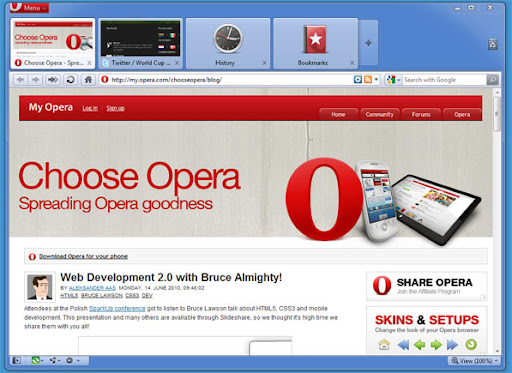 ---
What's New in Opera 10.60 Beta?
---
1. Enhanced Performance
Opera 10.6 is faster then 50% faster than it's predecessor, handles Java scripts very well.
2. More Accurate Geolocation
Browser plays an important role to find your location. This works as an Aid for search engines local search (eg Google Local Search, Bing Local Search) to provide best result in your locality.
see also:
Add Your Business/ Website to Google Local Search
3. HQ Video Format WebM
Opera now supports high quality open video format WebM. You can now view this video inside your browser. I need to check some codecs now.
4. HTML5 Appcache and Web Workers
Now use word processor, image editor, spreadsheets and many more applications, inside your browser even when offline with Appcache. Web Workers is for developers who can encode and program HTML 5 without much load.

5. Search Suggestions
Like popular Google search suggestion, Opera 10.60 beta is well equipped with search suggestions for some partners like Wikipedia.
6. Thumbnails & Icons for tabs
Like the previous version thumbnails are included in tab which can be replaced by icons, giving you more space.
see also:
Choose Custom Icon for Pen Drives
7. Visual Improvements
New graphics have been added to speedial, tabs, icons, thumbnails, making Opera more beautiful. The speed dials have been widened, covering extra spaces remained.
Opera Turbo downloads and renders the images in progression, so provides rescue for slow connection.
---
---
1. Opera Turbo
Opera Turbo gives you browsing experience at slowest possible internet connection, like me.
2. Opera Link
I use opera link to synchronize my bookmarks, speed dials, notes live from my mobile phone Opera Mini to Opera web browser.
3. Opera Unite
Opera unite lets you share files with great flexibility and works as web server.
---
Download Opera 10.60 beta
---
[
Download Link
] Opera English for Windows/Mac/Linux
---
Hand Picked Related Posts
---
Add Your Business/ Website to Google Local Search
Add Your Business to Gmap
So friends do you like the new features of Opera? Have you downloaded beta? Do you already use Opera, or is it your favorite browser? Share your experience with us, leave a comment.
Shekhar Sahu