Sandisk Tamper Proof Worm SD Write Once Read Many Can Store Images for 100 Years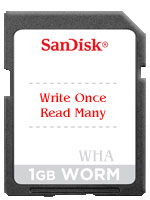 Forensic scientists and Police department always wanted a permanent solution to store images and other evidence (just forget in Bhopal case the alteration of IPC 300 to 300A for now). Traditionally a 35mm film was employed for storing forensic images, data in this case is degraded and finally lost overtime. So, Sandisk Corporation the leading flash memory card manufacture launched
Sandisk WORM SD cards "Write Once Read Many"
. These worm SD cards can store images for about 100 years without any degradation. Sandisk has already shipped volume of 1GB SD worm cards to Japan Police.
WORM = Write-Once-Read-Many
---
Usage in Law Enforcement Agencies Worldwide
---
Using Sandisk SD worm, law enforcement and forensic department can create unalterable and permanent photographic records, which eventually would be used as evidence during court trials. Alas! Indian police did the same.This will require to have a
SanDisk SD WORM
compatible camera/camcorder/recorder to capture images.
"Japan's police force is one of the world's largest and most respected law enforcement agencies, and a leading adopter of cutting-edge technologies," said Christopher Moore, director, product marketing, SanDisk. "Working closely with police around the world and our partner camera vendors, we have created a one-step system for tamper-proof data acquisition and archiving. This essential memory solution greatly simplifies the digital evidence handling process while exceeding the government's requirements for data integrity and longevity."
---
Comparison To Traditional Storage Solution
---
As said above traditionally 35mm film was employed which degraded overtime. But now the digital images can can be retained for longer period of 100+ years, without any loss of quality. We know it very well that in India many cases take up to years, rather than decades to arrive at end. And many times the criminals are left because no evidence was found, often evidences are lost in large duration of trials.
SD Worm controller technology protects any written data instantly and prevents the alteration & deletion of data.
Sandisk Worm SD
is much faster, mobile, easy to use, convenient and readily available alternative.
---
Limitations of SD Worm Now
---
All common SD compatible device can read SD WORM cards, but only hosts with SD Worm compatible interfaces can write to the card. SanDisk continues to work with leading makers of imaging, audio and video recording devices to implement SD WORM compatibility. We need to wait for it.
---
SD WORM in Future
---
In future it's expected that more security & law enforcement agencies will adopt this technology. This can also be used in sound recording and other health facilities to create permanent health records.
---
Capacity & Availability
---
Currently Sandisk SD Worm is available world wide with 1GB storage. There are plans to increase the capacity of the cards.
---
Buy Sandisk SD WORM
---
The pricing is depended on the quantity of perchance. You can buy SD worm from Sandisk network world wide. Contact the representative for more.
What do you say about "Write Once & Read Many - WORM "? Did you like this? Do you think SanDisk SD WORM will go popular? Do you think India will ever adopt this technology? What according to you are the other applications of Sandisk SD Worm?
comments awaited.
Shekhar Sahu
(Blogger, Designer, Programmer, Animator, Student)
---
Hand Picked Related Posts
---