By Shekhar Sahu on 22 June 2010 4:02 PM
Blogger, Blogging, Flickr, Flickr vs Picasa for SEO, Flickr vs Picasa Web, Image, Image Hosting, Optimize Images for SEO, Picasa, SEO, SEO for Image, SEO of Image, SEO Tips, wordpress
SEO Flickr vs Picasa Web Albums Which One is Better Optimized for Search Engines?
Blogs look just empty without images. I suggest fellow bloggers to add at least a single image to their blogs. The image may be the screen shot, logo or anything. Then comes hosting of images, You may like to read "
Top Image Hosting & Sharing Solutions
". Having images also has another advantage of Image Search, I am revealing that 20% of total traffic from search egines to WhiteHatAndroid comes from image search. (search percentage is 80% however) The secret is "
Optimizing Images for SEO
". I wrote a full article on "
SEO for Images for Better Image Search
", you must read before this. Flickr and Picasa Web are the most popular image hosting services from Yahoo & Google respectively. However there are other websites too like Imgeshack, Tinypics etc. So which image hosting provider should you choose
Flickr or Picasa Web
? Let me compare them as an SEO.
If you are using your own host then you should make a subdomain for images, this may reduce your site load time. eg. images.yourdomain.com instead of yourdomain.com/images.
Wordpress users prefer to use their own host, but this may increase the bandwidth load, Recently one of my friends' HostGrator account was suspended for few hours due to exceed of bandwidth. Now what do you think? But shouldn't we use enormous space provided by Google & Yahoo for free?
---
---
Flickr
is very popular among amateur as well as professional photographers. You can interact with other members, comment, tag, and share. If you upload an image to your Flickr album, then within few hours your images will come in search, that is for sure. But the images & the Flickr album would be indexed by the search engines in the ImageSERP [Search Engine Result Page]. This would give you no(or least) benefit to your blog or website. When you use images from Flickr in your blog/website then it doesn't contribute in adding any keyword to your post. Because it modifies the name eventually the peramlink/address/URL of the images.
Picasa Web Albums
is owned by search Giant Google, however this won't matter in the SEO ;). But if you upload the images after renaming by important keywords, this would contribute in increasing the keyword density. If the images come in Image SERP, then your blog post will be indexed adding some more traffic to your blog.
tip: Use important keywords in name of photos instead of image1.jpg, image2.jpg, etc.
By testing response time etc. you can know that the server of Flickr is slower than Picasa Web. So why would you decrease your site load time. When you know this is going to be an SEO factor in near future. To make you sure about the above tricks I have already verified this post by another SEO expert. So you shouldn't worry.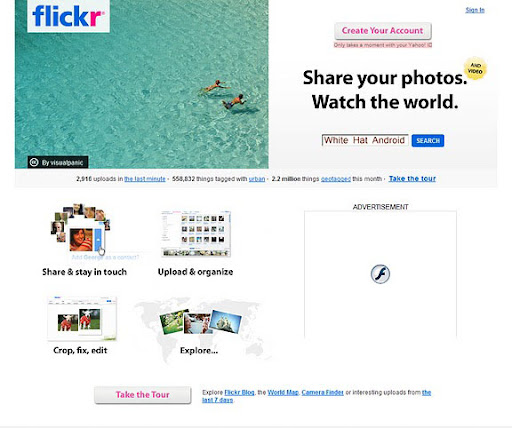 Few months ago of my Picasa's album got page rank one, I think it's better than page rank zero. Have a look at my
picasa album
, I changed the album now soon this will also get page rank.
---
---
If you want your page to be indexed, then you should use Picasa Web Album. Whereas if you want your image to be indexed soon then use Flickr, this might be important if you are a designer/photographer or if you don't have blog either. According to me overall Picasa Web Album is the best solution.
---
---
I explained you that both have certain benefits, Picasa Web Album for your blog & Flickr for your photos(album only). What if your blog post and web album both get indexed in the search engine. Even Flickr albums are indexed by Google's regular web search. Upload all images to both Picasa Web Album & Flickr albums. In the description add the name of your blog post and a permalink to your post. Start doing it now to get some extra referrals from Flickr.
---
Are You Newbie?
---
In case you don't know about Picasa Web Albums & Flickr,
read this
.
---
Hand Picked Related Post
---
Did you like it? Do you want know more? Do you use your own host or use 3rd party image hosting? Share your views with us.
Shekhar Sahu