By Shekhar Sahu on 20 June 2010 11:44 PM
application, Bookmark, Bookmark Manager, Browser, Download, Free Download, Internet, Software, Tools, Transmute, Transmute Plus, Transmute Portable, Transmute Pro, Transmute Serial, Web
Transmute | Convert & Manage Your Bookmarks across All Web Browsers
Bookmarking is the best method to save a link of your favorite website or any content on web. An Internet user saves dozens of bookmarks every day. In fact there are many social networks devoted to bookmarking like digg, stumble upon, delicious, and the list may go bigger. If you bookmark your favorite links in multiple browsers, and bookmarking networks. You would face lots of difficulties managing your bookmarks. So we have a little but very useful application
Transmute
to do all the works for us.
Transmute
is a bookmark converter and manager, which can handle all bookmarking formats and web browsers. You can import and export bookmarks across multiple platforms including Google bookmarks, Delicious. The features aren't finished yet..
Transmute is available in free, plus and pro versions and runs on Windows as well as Android platform and both in installable and portable packages. Portable will be good if you want to use it in your pen drive, multiple systems etc.
also see:
Make Pen Drive Virus Proof w/o Any Antivirus
Choose Custom Icon for Your Pen Drive to Show Off Your Brand
---
---
Though the free version of is basic but will complete all task described above and what you are required. After installing or if you downloaded the portable package of transmute, run it.
You will see the application as below. In the source field select the browser or web service from which you want to import the bookmarks from the drop down list. As you can see all the popular web browsers listed.
Now select the target browser or bookmark service then click on start button. It will transfer a copy of all links to the target service. Transmute will then start auto backups, so no worry of loosing your bookmarks ever.
(for advance users) You can also manually select the location of bookmark. This may be helpful if you are using more than one OS in multiboot.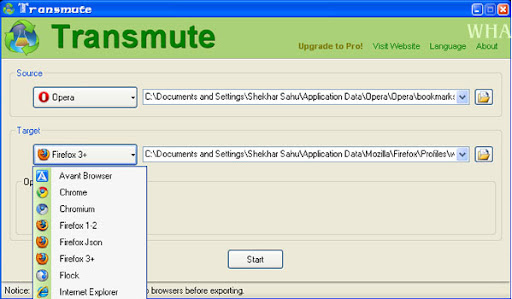 ---
Supported Browsers & Bookmark Formats
---
Transmute supports almost all popular web browsers an bookmark formats. They are adding more to the list.
Chrome
Firefox
Firefox Backup (JSON)
Internet Explorer
Opera
Safari
Flock
Konqueror
Chromium
XBEL
Google Bookmarks
Delicious
Delicious/Yahoo!
---

Transmute Plus & Pro

---
The Free version of Transmute doesn't lag behind Plus & Pro in it's bookmarking capabilities. However Transmute Plus & Pro provide some additional functionalities.The Pro & Plus versions also support web services like Google bookmark, delicious etc. They create a profile and synchronize all bookmarks, also include a command line, duplicate remover & dead link remover. Transmute Pro also features a Manager & explorer, where you can analyze and maintain all bookmarks together.
---

Download Transmute

---
Transmute Free
Transmute Plus
Transmute Pro
Transmute For Android
You can try the pro and plus version before buying for 30 days trial period.
So friends did you like Transmule? Have you already tried it? Do you have any other application like this? Please share your views with us.
If you want more applications like this make sure you subscribed to our
rss feed
or follow me on twitter
@Shekhar_Sahu
Shekhar Sahu