By Shekhar Sahu on 14 July 2010 1:16 AM
Android, App Inventor, application, Apps, Google Android, Google Labs, MIT, mobile, OS, Programming, Programming Language, Scratch, SDK
App Inventor, Creating & Developing Android Apps Could Never Be So Easier Before
It isn't too long when Google revealed it's Open Platform the
Android OS
. Since then almost all big cellphone and mobile devices manufacturers have promised to jump into android market. We have already big brands like HTC, Samsung, DELL etc in the race. If we talk about Apple the biggest competitor of Google Android, most of the app craters and developers are High School, or Graduate School students with little or no much knowledge of programming. Understanding the potential of non professional programmers Google labs'
Android App Inventor
, which has been there for sometime, and has been opened for general public today. The App Inventor makes it easier for programmer, students and non programmers to easily build custom apps for Android Powered devices mainly mobile phones. You might feel it to be "Scratch".
Are you geek like me who likes to tweak, modify, |-|ack software, gadgets, OS, websites or to play with stuffs etc? Ever wanted any mobile software to run the way you want, not as it's built up? If you are afraid of coding in Android SDK, (I don't use much), then App Inventor is the only way to go.
David Wolber, professor of computer science at the University of San Francisco and part of the initial pilot program, says "students traditionally intimidated by technology are motivated and excited to program with App Inventor." One student from Professor Wolber's class told Google "I used to think that no one could program except CS people. Now, I've made dozens of applications for the Android phone!" Another student, who struggles with dyslexia, was inspired by App Inventor to take more computer science classes and is now learning Python.
---
Is It Really So Easy To Build An Android App?
---
No & Yes, If you have programmed in any objective languages like C or other VB, Java etc. Then creating Android Apps in Inventor is damn easier for you. It would be like creating pseudo codes instead of actual programming. App Inventor is totally modular, you have to create block of codes by dragging and dropping the visual blocks of elements, statements, behavior and events then to modify the code, attributes. Still you have to work with some syntax, of course, the newbies may find it difficult but believe me, it's a lot easier than other programming language. You would get interest of doing so because you are making something totally practical.
learn more: [
http://appinventor.googlelabs.com/learn/index.html
]
---
Create Full Featured Android Apps
---
Most of the newbies start creating apps related to games etc. But Inventor can not only create games but also full featured and powerful applications for education, like quiz, tutorial, studies, interactive experiment etc. You can also incorporate the popular text-to-speech, GPS service, inside your application. Text to speech is very helpful for students, and others while driving, riding, cycling etc. wont require to read newspaper, sms or text message on go, instead of it the application will read everything. You will be creating apps the way it looks by adding visual blocks to perform actions according to it's definition under certain conditions.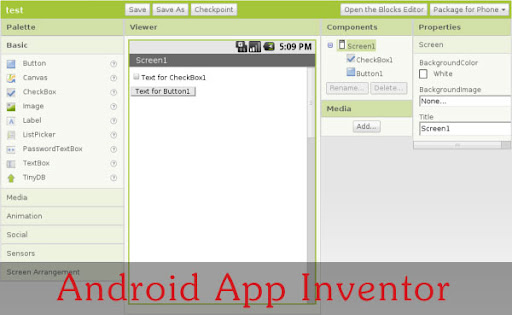 ---
Have You Seen Such Programming Language Before!
---
If you are like me who has already used such visual blog element based programming language. Then that must be "Scratch" [http://scratch.mit.edu/] a programming language developed by Massachusetts Institute of Technology's [MIT]. Open Block Java Library is developed by MIT Media Laboratory, which helped to make the App Inventor, Scratch is also a product of Open Block Java Library. The compiler that converts the visual blocks for implementation on Android uses the Kawa Language Framework and Kawa's dialect of the Scheme programming language. My guessing was right that App Inventor highly matches scratch. But scratch deserves another blog, I will post more about it soon.
---
---
Android App Inventor has been opened for public now, there is no bar to create apps. But you require to signup. Within 24 hours you will get notified about your approval and the further steps to follow.
sign up [
https://services.google.com/fb/forms/appinventorinterest/
] and start building apps now.
Hoping to launch some applications for Android soon, Android SDK helped me a lot now need to implement. How about you? Are you also planning to build some apps? Remember you can also sell your apps in Google Android App Store.
Shekhar Sahu
(Blogger, Programmer, Designer, Animator, Student-BIT)
Connect with us on Facebook
---
Hand Picked Related Posts
---