By Shekhar Sahu on 13 August 2010 11:47 PM
Boost Mobile, Boost Mobile Seek, CDMA, GADGET, GPS, mobile, PHONE, QWERTY, Samsung, Samsung Electronics, Samsung Mobile, Samsung Seek, Touch Screen
Boost Mobile Launches Samsung Seek Touch Screen Phone with Slideout QWERTY Keypad & GPS

After Sprint Network
Boost Mobile launches Samsung Seek
, CDMA-X series.
Samsung Seek
is Boost Mobile's first touch screen phone with a slide out qwerty keypad. It's designed for easy access to multiple messaging, social networking, voice, text messaging (SMS), Web, e-mail, IM and more. With Boost Mobile's unlimited plan this phone can best suit web junkies. Girls should also check this out, it's also available in their favorite color.
---
Samsung Seek - Features & Specifications
---
Display - 2.6 inch QVGA TouchScreen (TS)
Keypad - Slide-out QWERTY
Camera - 1.3MP
GPS - Enabled
Wireless Web and e-mail Access to Gmail, MSN, Yahoo and more
Instant Messaging (Yahoo , AIM , and Windows Live Messenger)
Unlimited Downloadable games, wallpapers and ringtones
Stereo Bluetooth
Enhanced MP3 Music Player
Multimedia and Text Messaging
Supports MicroSD card expandable up to 32GB
VoiceMail, Caller ID, Call Waiting and Call Forwarding
Speakerphone w/ Voice Recognition
Height- 4.12"
Width - 2.08"
Depth - 1.58"
Weight- 3.85oz
Colors-
Pink
,
Blue
, Black,
Red
,
Blue
-Black, also with prints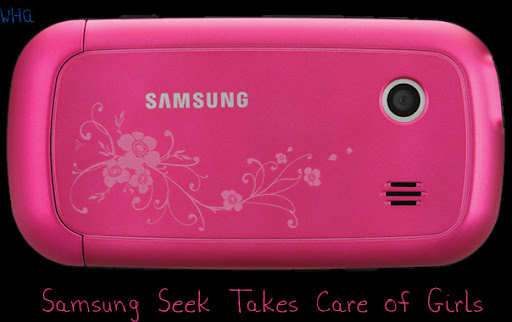 "Boost Mobile continues to bring its customers high-quality, versatile phones that don't break the bank," said Neil Lindsay, chief marketing officer, Boost Mobile. "Combining the stunning features of the Seek with the $50 Monthly Unlimited plan makes this pairing the perfect option for heavy-texting, feature-craving wireless users on a tight budget."
---
Price & Availability
---
Samsung Seek will be available by Aug 25 at online store, and in retail stores after few days. However the shipping is absolutely free.
Boost Mobile is Sprint's prepaid Brand which is known for it's short term unlimited talk, text, web, & IM plans at $50 monthly. It also offers similar unlimited services for BlackBerry at $60.
We can't deny the fact that this is another cool phone by Samsung Electronics. What do you say? The comment box is yours now.
Shekhar Sahu
(Blogger; Graphics, Web & Flash Designer; Animator, Programming Lover, Geek)
---
Hand Picked Related Posts
---