By Shekhar Sahu on 28 August 2010 9:02 PM
Android, Android control Hexapod Robot, Android OS, Bluetooth, Hexapod, Heximotion, HTC, HTC Hero, iOS, iPhone, iPhone iOS, iPod, Modern, PHONE, Robot, Spider, Touch, Warfare, Wifi
iPhone & HTC Hero Android Control Heximotional Hexapod Robot
Hexapod
is a six legged robot created by a UK robotics student Robert Stephenson. What's special about this Hexapod is that it's controlled by iPhone and Android OS powered HTC Hero. Robert Stephenson also developed iPhone & Android apps to control the Hexapod robot.
watch this video!!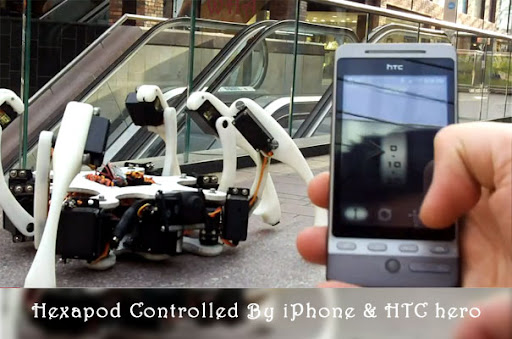 You might also ask whats so new or different in controlling a robot by mobile phone? You must watch the video and see how accurately the leg movements are controlled, how the robot dances and moves. When it wasn't enough, Stephen shows Hexapod playing a PS3 game being controlled by iOS and Android OS phones.
The Android Kinamatic App communicates via a bluetooth connection.
HTC Hero - bluetooth - Hexapod
Earlier he needed a computer to route, now he routes iphod touch via Droid phone with his self built Android Server App.
iPod Touch - wifi - HTC Hero - bluetooth - Hexapod
---
Video Hexapod
---
---
video credit:
Robert Stephenson/Blobbingtonsmithe
I hope you enjoyed it and in future we will be seeing more devices being controlled by these two powerful iOS & Android OS.
Shekhar Sahu
---
Hand Picked Related Posts
---
App Inventor for Android, Create Apps Easily Like Scratch
Transform HTC HD2 into Metal Detector
HR Ministry Unveiled Low Cost Computing Tablet, Indian iPad Rival
Current IPv4 Gets Full, Roadmap for IPv6
Meltmail: Temporary Email Provider To Melt Email Id
Turtle vs Tata Greenpeace Game
Microsoft's Adaptive Keyboard Prototype With Touch
Sony Dash Personal Internet Viewer : The iPad Rival
Apple Launches iPad
Android Speed: Increase Speed of Android Phones
Top Android Security Apps to Make Android Devices Secure