By Shekhar Sahu on 16 September 2010 1:22 AM
Have you ever had any problem recognizing about your old health problems or medical conditions when asked by any Doctor? Do you feel you are not able to follow the instructions of your physicians? Then you need a database where your medical conditions, status can be stored. Many startups and hospitals have tried to create such a medical database for individuals which can then be accessed by the doctors to properly treat patients. But those were at small scale, though some succeeded. Giant G also launched a similar medical database tool
Google Health
to organize, track and monitor the health information of its users two years ago. Yesterday Google launched Google Health in New avatar with adding new fitness & wellness features; easy dashboard and monitoring tools etc. We will be discussing them in this post.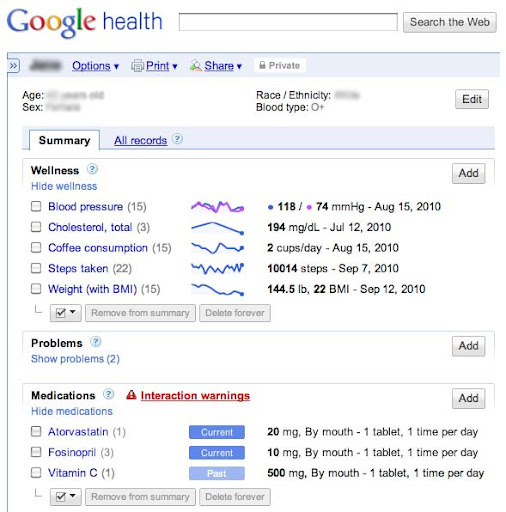 What is Google Health?
Google Launched Google Health with an Aim that your health information should be accessible anytime, anywhere to you and one you want (eg your doctor). Google Health keeps track of your daily lifestyle, activities (in the real world), health goals (like exercise, walk etc), your medication, tests, allergies, health information and many more. The monitoring tools make it easier to analyze your health records present in graphs etc. You can share this information with your doctor, family members etc. Not only can you create your own database but also of others you care.
Features of Google Health
1) Google Health provides an online database to organize and store health information. You can keep track of medical records and import data from connected doctors, clinics and hospitals.
2)
Set Health Goals and Follow for Better Life
Sometimes you make health plans like you would lose weight, not drink, decrease cholesterol, decrease blood sugar, exercise, go for a walk, cycle etc. Google health provides you with a comprehensive tool for this.
3) After setting the plans you would enter your stats with various tools available. Then you can monitor your daily progress.
4) Sharing the health information is one of the best feature available. It provides portability of carrying huge data over cloud so you don't ever need to carry your test reports with you when you are going to the doctor.
5)
Connect to tons of health apps and devices
There is a huge collection of apps and device partners which work with Google Health and help you manage and organize your health database easily.
Google has revamped the Google Health Dashboard to make it easier to use and
added new features like Wellness goals and incorporated with many new partners like Fitbit and CardioTrainer to make it easy to manage your fitness goals with their products. Facebit manufactures a wearable device that captures health and wellness data like steps taken, calories burned, sleep etc. CardioTrainer is a mobile app for tracking fitness activity.
Now you can take notes of your progress for each health condition or medication.
Now you can remove/hide any outdated information which is no longer relevant or useful to make your health history uncluttered.
How to Use Google Health?
You can access Google Health by logging in with your Google/Gmail account
https://health.google.com/health
Now you can select each portion of the dashboard and start editing your information in your health profile. You don't need to worry about your privacy because Google Health uses sophisticated security techniques including encryption on connections and servers to protect your information.
You can check the various apps and services available by Google and it's partners and link it to your profile.
Google Health Also provides you a medical contact book, you can add your family members, doctors, and friends. It also allows you to manage who would have access to your health records.
Access Google Health
Login Google Health with your Google Account
https://health.google.com/health
The new features and redesign make Google Health easier to use. What do you think? Are your local hospitals connected to this database?
I know you have something to say :D
Shekhar Sahu
You may also like to check my friend's startup in the health field
Health Care Magic
Hand Picked Related Posts
Add Your Business to Google Maps Business Listing
Google Voice Invite For Students
Google's Virtual Keyboard for Search
Google's Transliteration IME- Write in Your Own Language with Roman Keyboard