By Shekhar Sahu on 18 September 2010 10:37 PM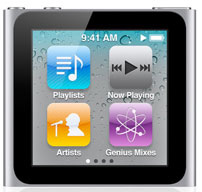 Finally, Long awaited Apple iPod nano has arrived in the stores. There is no doubt Music Junkies love Apple iPod, why not if there are so many reasons for it. The stylish sleek light Apple iPod nano features multi-touch gestures, Genius Mixes, shuffle, live radio, new VoiceOver technology and more. iPod nano has a built-in FM radio that lets you even play, pause and rewind your music tracks. iPod nano is now available with 8GB and 16GB of storage.
also, read:
Apple's New iPod Shuffle - Features & Specifications
Apple iPod nano Features
Multitouch & Customization
Apple iPod nano's multitouch is the same technology which is incorporated in Apple iPhone, iPad and iPod Touch. The multitouch feature lets you control your music tracks and other functions just a tap or swipe away. You can use two fingers to rotate the display and you can also customize the home screen icons the way you want.
Little Screen To Display More Than Little
The small 240 x 240-pixel screen is enough to display your favorite wallpapers, album art, photos and more.
Connect & Play
Use the 30-pin connector to plug iPod nano to your car stereo system, speakers at home, your Mac or Windows PC, iTunes and play loads of favorite music tracks.
Apple VoiceOver Technology
The new VoiceOver technology also seen on
iPod Shuffle
reads out the screen, track name, description, artist and more.
Shake & Shuffle
Shake your iPod nano and it plays a song randomly, which you never listened or have forgotten.
Live FM & Genius-The Personal DJ
The Live FM feature actually records the current FM station track so you can pause and play and rewind the track for 15 minutes. You can recontinue listening to the song from the point you left. The Genius button randomly creates a song playlist and you don't know the next track. The Song combination will always surprise you.
Stay Fit With iPod nano & Nike
The Built-in pedometer you can keep track of your walking exercise. Make a goal and analyze your daily growth on Nike Website.
There is also a Nike + iPod Sports Kit (available separately), lace it up with your Nike shoes and get songs played according to your workout mood, your exercise condition and more.
Connect With Biggest Music Store - iTunes
Fill your iPod nano with the latest music, podcasts, audiobooks, and songs with iTunes. There are about 13 million never-ending songs available at Apple's online music store iTunes.
Apple iPod nano Specifications
features:Battery:
Dimensions
:
1.48 x 1.61 x 0.35 inches
Weight
:
21.1 grams
Input & Output
:
3.5 mm stereo head jack & 30-pin Dock Connector
features: audiobooks, podcasts, photos, FM
Battery: able Lithium ion Battery
with battery life upto 25 hours
and full charge time 3 hours
colors
:
Grey, charcoal, blue, green, orange, and pink
Red Exclusively on Apple Store
Display
:
1.54 inch color TFT
240x240 pixels Resolution and 220ppi
Multitouch
Navigation
:
Multitouch Gesture Based Navigation- Tap & Swipe
FM Radio
:
Live FM Radio with the ability to pause, play and rewind upto 15minutes
Regional Settings available
Capacity
:
8GB or 16GB flash memory
Sensor
:
Accelerometer for Fitness Apps
Headphone
:
Earphone 32 Ohms, 20Hz to 20KHz
Supports Mono Audio
Audio Playback
:
AAC , Protected AAC (from iTunes Store), MP3 , MP3 VBR, Audible (formats 2, 3, 4, Audible Enhanced Audio, AAX, and AAX+), Apple Lossless, AIFF, and WAV
Custom Maximum Volume Limit

K-lite Full Codec Pack- Ultimate Collection for Media Junkies
Languages
:
29 UI languages: Arabic, Brazilian Portuguese, Cantonese (Traditional Chinese), Croatian, Czech, Danish, Dutch, English, Finnish, French, German, Greek, Hebrew, Hungarian, Italian, Japanese, Korean, Norwegian, Polish, Portuguese, Romanian, Russian, Simplified Chinese, Slovak, Spanish, Swedish, Thai, Traditional Chinese, Turkish


---

Song, album, and artist information can also be displayed in Bulgarian, Serbian, Slovenian, Ukrainian, and Vietnamese.
Languages for VoiceOver
:
Chinese, Czech, Danish, Dutch, English, Finnish, French, German, Greek, Italian, Japanese, Korean, Norwegian, Polish, Portuguese, Russian, Spanish, Swedish, Turkish
Minimum Requirements
:
Mac System with USB 2.0, Mac OS X v10.5.8, iTunes 10, Internet Connectivity
Or Windows PC with USB 2.0, Windows Vista/7/XP SP3, iTunes 10 and Internet Connectivity
Package
:
iPod nano, Apple Earphones, Dock Connector, User Manual
Price & Availability
Apple iPod nano is now available in Apple stores with the price tag of $149 (US) for the 8GB model and $179 (US) for the 16GB model. Pretty Expensive!!
I think the iPod nano is over priced, Go for it if you are crazy rich about music and apple gadgets.
What do you think? Did you like the iPod nano?
Share your opinion with us in the comment section below.
Shekhar Sahu
Hand Picked Related Posts