By Shekhar Sahu on 02 September 2010 9:10 PM
Android, Android OS, Apple, Apple iPad, E-Reader, GADGET, Google Android, IFA, IPad, iPad Rival, iPad vs Galaxy Tab, mobile, PHONE, Samsung, Samsung Galaxy Tab, Tablet, Touch, Touch Screen
Samsung Galaxy Tab A Tablet PC Running Android OS Launched, iPad Alternate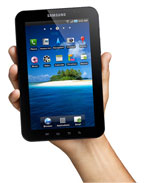 Samsung enters in the new mobile product category with the launch of Android Powered Tablet PC cum e-Reader
Galaxy Tab. Galaxy Tab [GT-P1000]
was presented at IFA electronic trade fair in Berlin, Germany yesterday. This high end tablet model is being considered as the major rival of Apple's ipad Tablet PC. The powerful tablet Samsung Galaxy has 7" wide TFT touch screen. Galaxy is designed to hold on your palm with ease, weighing about 300gm, half of the iPad. Galaxy Tab offers full media experience with it's Full HD playback support.
Powerful Processor & Operating System
Galaxy gets power of Google's Android Froyo Operating System 2.2 & Cortex A8 1.06 GHz Application processor with 512MB of RAM. Galaxy Tab is based on Galaxy S smartphone but it's not like what iPad users say "iPad is just the bigger version of iPone and slower than my laptop". Believe me Galaxy Tab is powerful. With Android OS you get access to 70,000 apps in the Android Market, above 60% Android apps are free.
High Definition Media Playback & Recording
You can enjoy watching full HD movies on Go with it's 1080p Playback. Galaxy Supports wide range of media formats including DivX, XviD, MPEG4, H.263, H.264 and more. You can record videos upto 720x480 pixels @ 30fps with it's 3.0MP rear facing (RF) camera.
related:
K Lite Mega & Full Codec Pack - Ultimate Collection for Media Junkies
Network & Connectivity
Galaxy Tab always keeps you connected with connectivity options: 3G HSPA, 802.11n Wi-Fi, EDGE/GPRS and bluetooth 3.0. Some operators will also provide extra SIM cards to use the Tab & Mobile phone from a single account.
You can use it as mobile phone on the move via a Bluetooth Headset. You can make voice and video calls with it's front facing (FF) web cam, Send Text & Multimedia messages and connect with popular social networks. It comes with integrated Gmail & MS Active Sync for smoother communication.
related:
Send Free SMS upto 400 Characters in India
Web Browser with Flash 10.1 & HTML5
The Android Web browser supports seamless HTML5 Rendering & Flash playback with flash player 10.1. It supports Flash unlike Apple Ipad. What will a Flash Designer want more? :D) I must also remind you that Google is working on HTML6 & HTML7, so Android OS is always one step ahead than it's rivals.
E-Reader Targets Amazon's Kindle
The "Readers Hub" Samsung's e-reading application provides easy access to a vast digital library. Samsung also unveiled "Media Hub" & "Music Hub" which give access to vast range of Movies & Music tunes.
Processor
:
1.06 GHz Processor with Power VR S6X540 with 512MB of RAM
Display
:
7" WSVGA TFT, Multi zoom touch ,1024x600 pixels
OS
:
Android 2.2 Froyo
Camera
:
3MP AF Camera, LED Flash, 1.3MP VT
Network
:
HSUPA 5.76/HSDPA 7.2Mbps 900/1900/2100 EDGE/GPRS 850/900/1800/1900
Dimension
:
190.09x120.45x11.98mm
Weight
:
380 gm
Android Samsung UI & Samsung Apps
:
Multiple Home Screens, Widgets
Swype, ThinkFree
Downloadable Apps
GPS
:
A GPS
Memory
:
16GB/32GB internal, MicroSD expandable upto 32 GB
Video
:
Full HD Playback 1080p &
Record upto 720x480 pixels @ 30Frames per second
Music
:
3.5 mm Ear Jack & Speaker
Supported Files: mp3, aac, ogg, wma, amr-nb/wb,flac,wav,ac3,midi,rrrrl/rtx,ota,i-melody,sp-midi
Browser
:
Android Browser with Flash Player 10.1 & RSS Reader
Email
:
Integrated Gmail & MS Exchange ActiveSync
Price & Availablility
Samsung Galaxy Tab will be available in Europe Market by end of this month. And is expected to come in US and Asian Market later this year. The price is yet not unveiled, but it's expected to cost around $699 to $799. For folks at India, It might take few months before we make our hands dirty with it.
Samsung Galaxy Tab is powerful Tablet which delivers higher performance than iPad. It's considered as the strong rival of Apple iPad. But the price is relatively high, if Samsung decreases the price of Tab, it will be more liked. However Samsung Galaxy has one more strong point that is much loved Android OS. After the launch of Galaxy Tab, many other companies have promised to launch their tablet PC, more rivals I guess .
What do you say? What would you choose between iPad and Galaxy Tab? Do you think it's an iPad killer? I know you have something to say :D
Shekhar Sahu
Hand Picked Related Posts
Low Cost Access Cum Computing Device #Indian iPad Rival
World's Cheapest Android Powered Tablet AAKASH Launched by Govt of India
Sony Dash Personal Internet Viewer #Another iPad Rival
K Lite Mega & Full Codec Pack - Ultimate Collection for Media Junkies
Apple Launches Apple iPad
Apple's New iPod Shuffle Features & Specifications, Available at Stores
Peek 9 Launched with Twitter, Facebook, Active Sync And more
Top Android Security Apps to Make Android Devices Secure