By Shekhar Sahu on 06 September 2010 1:07 AM
Add-On, Download, Environment, Firefox, Firefox Add-On, Free Download, Global Dimming, Global Warming, Satellite, Weather, WeatherBug
WeatherBug Firefox Addon-Local Weather Forecast & Condition
Now a days it's raining much in India & Pakistan. But when we need it most we get deprived of it. Indians have seen the hottest day of 50 years with 50 degree Centigrade temperature last year. Climate Change is a big concerned and their forms Global warming & Global dimming. Global dimming is the least known term. And governments are trying to control it. However you needn't to stop working till the problem get's solved. Often you need to cancelthe work schedules because of the weather. So here is a
Firefox add-on from WeatherBug
, leading weather forecaster & information provider to help you pre plan your schedule and get updates in realtime. They connect almost every city across the planet.
The new version of addon on WeatherBug 2.0.0.4 was recently released. WeatherBug add-on works with it's web based rich information portal weatherebug.com.
☼ Local Weather Updates & News
☼ Weather Forecasts Upto 3 Days
☼ Live Camera - Zoom around the world with network cameras
☼ Radar/ Infrared Satellite Pictures as you watch on your favorite news channel
☼ Temperature & Wind speed
☼ Easy to blend with your browser skin or theme with customizable position of display
☼ One click weather window for additional informations
Install & Customize
Download the add-on from the link provided below. Now you can customize this addon. Click on the weatherbug options icon or goto Tools> Add-ons, under extension tab select Weatherbug and goto it's option (see screenshots below)
By Default the weatherbug display is located at the right corner of status bar. You can change it's position to Menubar, navigaionbar, bookmarks bar etc. Select the suitable temperature and wind speed units.
The most important thing is select your location. You can use city/town/village, pin/postal codes to search your nearest channel.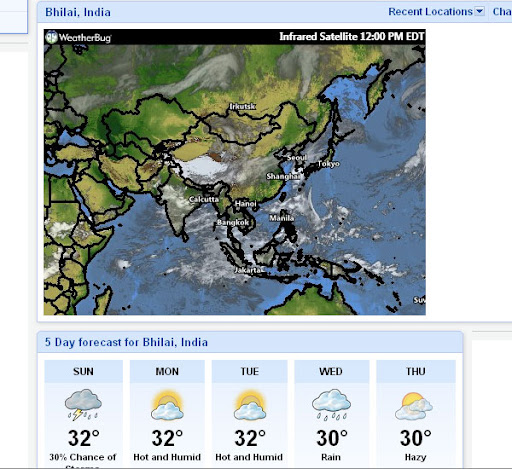 You can use weather window (right click on the weatherbug display) to see more information such as radar/infrared satellite pictures.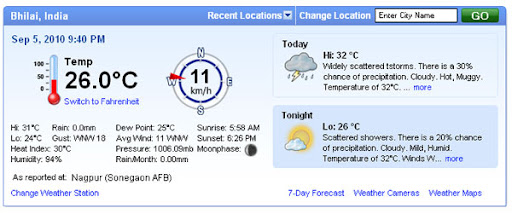 Download WeatherBug Extension for Firefox
Download WeatherBug [
Link
]
What i like most is the satellite pictures! What do you think? Are you going to use it?
Shekhar Sahu
Hand Picked Related Posts
CubeSat XI-IV- Japan's Tweeting Satellite
BT Brinjal- Protest Against Poisonous Food
Turtle Vs Tata- Greenpeace Game To Save Turtles