By Shekhar Sahu on 09 October 2010 8:43 PM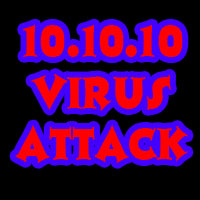 One side people were exited about the combination of date for Sunday 10.10.10 and wanted to celebrate the day which comes once in a century. The possible threat or the rumor of virus attack is hitting the web. What will happen at 10:10:10 on 10.10.2010 is still suspicious. Will our computers stop working? or the 10.10.10 virus will jam the computer clock? (;-) Or Is it another XSS [cross site scripting] or Mixed Content attack on social networks Facebook, twitter, Orkut, or your website or the regular spam and phishing attack?
11.11.11 Unity Day & Year of Revolution, Anonymous Attack Expected
Security experts say that hackers/hijackers get active on such date. So you need to be more alert on these days.
Graham Cluley, computer safety expert at Sophos, said to The Telegraph, "There's been a long history of virus scares related to specific dates, and it's not that surprising to hear people whispering about the possible risks looming on 10 October 2010. But with more than 60,000 new pieces of malware (malicious software or software infected with malicious code) being discovered every day you should realize that you need to be careful about attacks every day of the year."
What!!! more that 60000 new malwares? Isn't it huge?
How to Protect Your Computers From 10.10.10 Attack?
۞
Update Your Antivirus Software
If you haven't updated your antivirus for a long, this is right time to update.
۞
Firewall
Make sure firewall is up and running properly. If you haven't set any rules for softwares to access the network to make inbound and outbound connections, data transfer, intrusion and ip scanning. Configure the firewall properly.
۞
Disconnect From Web
Can you live a day without Internet? I know it's difficult. But if you can, it's better to remain offline on 10.10.10 to avoid any possible attack.
۞
For Webmasters & Network Admins
Webmasters & Network Administrators need to keep an eye on the server activity logs, to prevent any inconvenience.
This post is not to terrify you, neither is to spread any rumor like on Facebook, this is just an alert to the suspicious virus attack scheduled tomorrow. Above are the prevention measures to be taken to be safe.
I hope everything goes well tomorrow! Praying it to be a rumor and if so, consider it as a mock drill :D What do you think?
Shekhar Sahu
Hand Picked Related Posts
Intel Buys McAfee Cyber Security Company for $7.68 billion
McAf.ee Safe URL shortener From Security Giant McAfee Launched
Make Your Pen Drive Virus Proof Without An Antivirus
I got attacked by ransomware WannaCrypt - What to do now?
What is a ransomware virus? How does a ransomware work?
11.11.11 Unity Day & Year of Revolution, Anonymous Attack Expected