It was Google's Instant search that fascinated users and became a nightmare for rival search engines. Then came mobile instant search last week. Goggles too is a unique search by Giant Google. Google recently incorporated an instant preview feature like one on Microsoft Bing in its search engine result page. The preview shows the long image preview of the webpage, breaks the page if long, and shows the topmost or most relevant snippet of the article to help you realize if the content is qualitative or just a waste to leave. Google seems to follow bing to bring instant preview to it's home. We have not got any comments from Bing guys yet. Google said this feature will be available in 40 other languages soon.
Earlier there was, oops is a firefox addon named "Google Preview" now turned to "Search Preview" because it now shows a little thumbnail of from all search engines and popularity ranks of the links you may like to check in one of our
ancient posts
:)
How to Access New Graphical Instant Preview?
Go to Google.com and enter your search query. When the search contents load up in lightning fast speed. Click on the magnifying glass icon
present beside the snippet. In a few seconds, it loads the graphical instant search preview.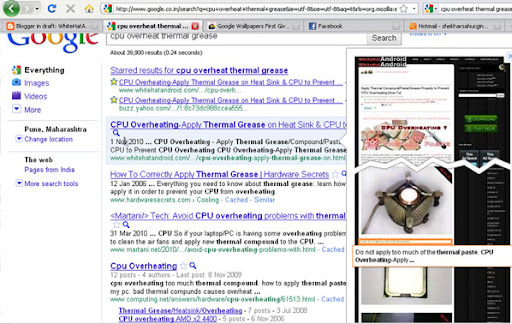 Benefits of Google Instant Preview
1. Now save time with previewing the web pages, and this helps you to recognize if the site is one you were searching for, then only you visit the actual page.
2. Fight spams with google instant search preview. The snippet shown in the graphical preview shows you the most relevant text from the webpage. If there exists meaningless content. Google won't display any highlighted text.
3. Now you can easily differentiate between official websites, tutorials, forums, chat, spam, web directory and other sites by looking at the preview: the pattern, logo, color etc. Then you can visit the desired and most relevant result.
learn more at [
http://www.google.com/landing/instantpreviews/
]
This is sure Google Instant Preview opens a new perspective on the judgment of web pages. Earlier you never knew what's behind the link/page.
What do you think? Did you like this new feature? Do you think it increases the load time of Google Search, which is popular for faster search?
Shekhar Sahu
Hand Picked Related Posts
Google Input Method Editor IME- Writing in Regional Languages Made Easier
Google Health: A Health Database & Planning Tool
Access Google Services in Google CL: Command Line