By Shekhar Sahu on 12 December 2009 11:49 PM
Sending free SMS Via! Is that really possible to send free SMS? Sending SMS has become a part of our life. Whether it is a festival, birthday, or any other occasion greeting friends by SMS has become a de facto nowadays. Calling is the secondary, We probably spent more money in sending text messages than the phone calls. Having an Internet connection adds to it.
There are many online websites and offline software which provide free or cheap paid SMS services like Skype, 160 by 2, you mint, Indiarocks, smslife , text4free, textmefree, way2sms and thousands of more.
One may be puzzled using and trying these services, some give up searching for a suitable and reliable service including me. I have tried around 20 websites and finally arrived on two. Today I am going to talk about way2sms.com and 160by2.com, their features and comparison between them.
You probably have received at least a message with a footer note
Sent Via Way2SMS.com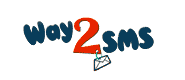 WAY2SMS.COM (WAYS2SMS.COM)
way2sms
is one of the most popular sites for sending free SMS in India. I stuck at way2sms because it shows sender's identity as the real phone number so others will not be bothered to find the number and look into the phonebook. It was the benchmark for any website I set out. The way2sms.com also features to use Gtalk, yahoo messenger and emails altogether at the same website. But beware it stores all information that's not good for the security measures. It has plenty of freeware games and ringtones. Some folk know it as www.via way2sms.com :)
Register for free at
www1.way2sms.com
and verify your cell phone.

160by2.com
160by2
is another most popular website in India which has 5.7 Million registrations all over the world. It can be used to send free SMS to India, Kuwait, UAE, Saudi, Singapore, Philippines & Malaysia It allows to send unlimited free and paid SMS. If you pay $1 per month. One of the most exciting features of 160by2.com is that you can make your own ads and you get 5000 credit free.
Register at
www.160by2.com
and start sending free SMS.
The table below will help you analyze the better website:



features




way2sms.com


160by2.com

Service
free
free and paid
Number of characters per message
140
80, now 140
Group messages
yes
yes
Maximum no of recipients per group sms
10
10
Footer of message
sent via way2sms
advertisement
Phone/contact book
yes
yes
Manage contacts
upload/download
upload/download
Templates / occasional greetings
yes
yes
Sender's Identity
cell number
cell number
Additional features
Games, Gtalk, Yahoo
messanger, push messages
make your ads
Captcha
no captcha
no captcha
Features
8
5
Performence
5
6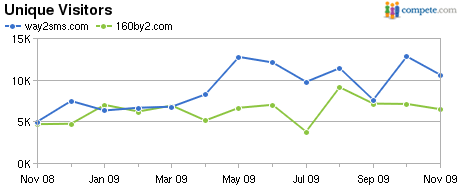 The above chart shows the comparison between the
traffic
of way2sms and 160by2 in a year duration. It's clearly visible that way2sms have nearly about 10000 Unique Visitors per day. Which is slightly greater than 160by2. Now you have to decide which website suits you best according to your use, experience, and requirements. According to Alexa.com way2sms.com is among the top 100 websites of India. So you can estimate the popularity of way2sms.com.
The next time you receive an SMS containing sent via way2sms.com then you can reply by the same.
Now beware, friends, that a cloaking site of way2sms.com has been created as ways2sms.com, which uses the unethical way to get traffic by misspelled words. It's regarded as spam by the search engine.
Did you find this post useful? Do you know any other website which is better the above both? You can also share your experience here in the comment section!
Shekhar Sahu
Hand Picked Related Posts
Send Free SMS in India Via Way2SMS.com
Send Unlimited Free SMS from PC To Mobile Via 160by2.com
Send Unlimited SMS with Scheduling Via Indyarocks.com
Send 400 Character Free SMS from Internet To Mobile in India Via SMS7.in
Backup Flickr and Picasa Images via Indyrocks.com Online
SMS & Twitter Tags | How To Convert Bulk Messages To Short