There is an abundance of system utility software for PC maintenance, system care, cleanup, repair to security and performance optimization. We always seek for a software which can handle all sort of problems. Glary Utilities Pro/ Free is a comprehensive PC maintenance utility that takes a one-click approach along with regular modules to help protect, repair, clean and optimize your computer.
I will be discussing the features of Glary Utilities in Detail.
One Click Maintenance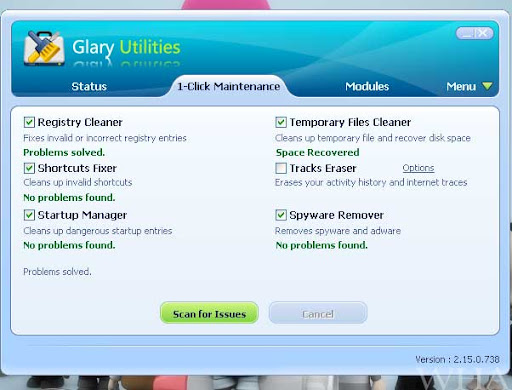 Give your system a weekly dose of one click maintenance. The Gray Utilities one touch maintenance features
Registry Cleaner: Registry Cleaner will scan for registry errors, invalid entries and will delete them. This improves your system speed significantly.
Shortcut Fixer: Scans for shortcuts whose target files are removed from the location and deletes them.
Startup Manager: This cleans dangerous or useless startup entries which slows your computer during system startup.
Temporary Files Cleaner: The temporary files including system cache, internet cache files extra take up huge disk space. Gray Utilities will free up the disk space.
Tracks Eraser: This removes the cookies which send your usage tracks etc.
Spyware Remover: Removes if any spyware is found.
Clean Up & Repair
Disk Cleaner: Disk Cleaner can remove all junk files from your disk and useless windows components. You can specify the file types to be removed.
Registry Cleaner: As described above, fixes registry errors and automatically keeps a backup of registry files so you can invert the previous registry cleanup.
Shortcuts Fixer: You can select a disk drive to scan for shortcut (.ink) files whose targets are missing and fix them.
Uninstall Manager: The default windows uninstaller is not so sophisticated. The Glary Utilities' Uninstall manager shows the date of softwares installed and displays which softwares are new. You can uninstall softwares from this place.
Optimize & Improve
Startup Manager: You can choose which programs to load at system startup and which programs do not. One of the best things I liked about Glary Utilities is you can delay from 30 seconds to 180 seconds any programs which were otherwise scheduled to load at the same time when the system starts. Which reduces your system load time.
Memory Optimizer: This tool monitors the memory consumption and optimizes if possible free up system memory. You can also enable auto optimization feature which will run in the background.
Context Menu Manager: With this tool, you can remove the unwanted context menu items like files & folder options, new file options & send to locations. Removing unwanted option will increase the speed of context menu loading.
Registry Defrag: This scans the registry and defragments it if you continue. Though space freed up is less but it improves the system performance.
Privacy & Security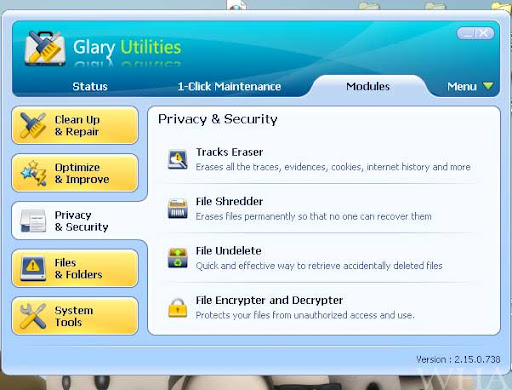 Privacy is a big concern nowadays if it's about Facebook or any software scanning your personal information. Some big companies like Google, Microsoft etc do keep a record of usage statistics. It's advised to install a firewall and configure properly.
Track Eraser: This erases all your online traces, cookies, history and many more.
File Shredder: If you think deleting a file will remove the file, then you are wrong. The files remain at the same place in the magnetic disk, just it becomes hidden. So many delete file finder can recover deleted data. So there is another technology/method to delete the files permanently by overwriting the data with some garbage many times, known as Shredding.
File Undelete: You can recover any accidentally deleted files until the disk hasn't been defragmented or formatted. It provides a search tool too.
File Encrypter and Decrypter: You can encrypt any file and protect it from unauthorized access, and decrypt it at any time with a password.
Files & Folders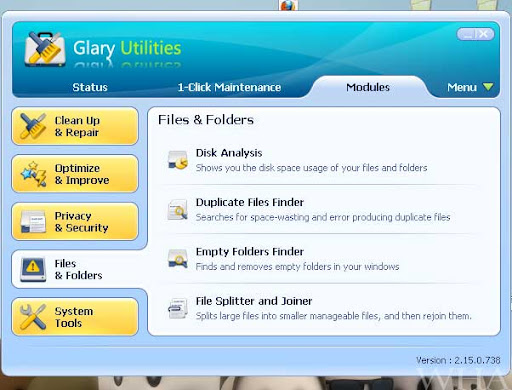 Disk Analysis: This Disk Analysis tool is awesome. It scans for the selected drives and shows you the statistics of folders sizes and the types of files taking space in percentage eg how much space .dll files are taking and how much. exe etc. You must try this.
Duplicate Files Finder: It makes no sense to keep some same files in multiple locations like songs, images, wallpapers etc. This mainly happens due to sharing files between multiple computers, friends etc. The tool checks for duplicate files and deletes one copy of files. This will reduce your disk space.
Empty Folders Finder: Checks for any empty folder you perhaps created and forgot to use/delete and deletes them.
File Splitter & Joiner: This is one of the most useful features of Glary Utilities. You can split almost any files in desired file sizes and also can join them. You may like to use it for splitting movies, songs etc.
System Tools
Process Manager: This shows you the running process, rating, CPU & memory consumptions. If you want any process to stop you can do with this tool. Whereas the system task manager doesn't show the hidden process and doesn't terminate many processes.
Internet Explorer Assistant: Though all the options of this tool are available in the control panel this will make the tasks easier.
Windows Standard Tools: Last but not least it links to all popular windows tools like checkdisk, defragmenter, restore the system, file checker, backup etc.
Download Glary Utilities
The free version of Glary Utility comes with 3 skins. You can also set it to auto load at startup.
I hope you liked this tool. Don't forget to share your experience in the comment section below.
Shekhar Sahu
Hand Picked Related Posts
Free Download Advanced System Care From IOBit
Make Your Computer Run Smoother & Faster with CCleaner
Shape Collage Pro - Make Amazing Digital Collages
Pixeur Colour Picker, Select Colors From Anywhere
5D Fly Free Photo Editor & Viewer