Do you feel your system is not running smoothly as when you bought PC or formatted your OS? This is because after the installation of any software, internet usage etc. there remains a lot of cache, unused files and registry files also with errors. The cache eat much of your valuable HDD space whereas the useless registry files make your OS run slow. This is also because the existing windows uninstaller is not so efficient. So we have an excellent All-in-one (AIO) system optimizer, privacy cleaning & drive wiping tool "CCleaner" from Piriform, often pronounced as CC Cleaner at first glance. Piriform has released the major build version of Cleaner v3.00.1308 recently with a lot of new features, Secure File Deletion, New Native EXE for 64 bit OS, HTML 5 support and more.
Piriform introduces a native 64-bit exe of CCleaner so it would run on 64 bit OS smoothly. Piriform added new environment variables for %SystemDirectory%, %SystemDirectory32%, and %SystemDirectory64%. As predicted earlier, CCleaner now supports file shredding or secure file deletion. It can also wipe drive empty space so deleted files can't be recovered by any deleted file restorer. CCleaner advanced to support new web applications like HTML5 data and Microsoft Silverlight isolated storage. CCleaner 3.0 added support for applications AVG AntiVirus 10.0, Audacity, LogMeIn Hamachi, BitTorrent, Windows Game Explorer & torrent manager Vuze and enhanced support for Internet Explorer 9, Google Chrome.
Piriform revamped the look of CCleaner UI with new graphics and icon.
CCleaner is the very popular tool so it requires no introduction. But if you haven't used it yet, have a look at the features below.
Ultimate Cleaner
CCleaner can wipe up traces, cookies, index.dat and internet history from popular web browsers Opera, Firefox, Google Chrome, Flock and Internet Explorer. This free tool frees up memory by removing old prefetch data, DNS cache, INI files, temporary internet files, history and more in no time. Apart from windows application CCleaner supports various third-party applications such as Adobe Photoshop, Adobe Reader, Foxit, Google Earth, Nero, MS Office, Open office, SeaMonkey, DAP, Flash Player, 7-Zip, WinRAR, WinZip, AVG AntiVirus 10.0, Audacity, LogMeIn Hamachi, BitTorrent, Windows Game Explorer, Vuze and the list may go even longer.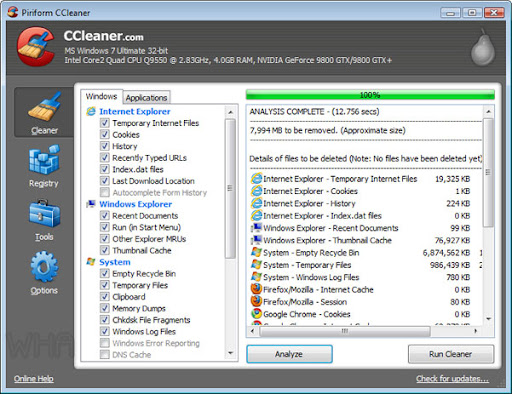 Fix Registry Errors
CCleaner efficiently removes the useless registry files left by the uninstaller and fixes if any registry error is found. If you are afraid if the removal of an unknown file may cause a problem, CCleaner can take the backup of registry files before removing them. Now there is no need to use the windows registry editor [regedit] and clean registry manually.
Uninstaller
It's discussed many times that windows installer/uninstaller is very inefficient. You must use a third party uninstaller to remove programs to make sure no file is left behind. CCleaner also incorporates an easy to use uninstaller with it. Want to tell your friends how many software you have? With CCleaner, you can create a list of all installed software and windows components just by one click.
Startup Manager
Does your system take much time to boot up? This is because software updater and other applications start up when windows start. You can select and disable the applications. If you no longer want the program to run, delete the key permanently. In the image, the gray text shows the disabled applications.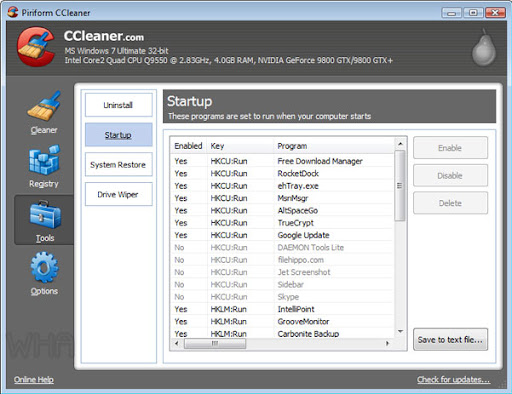 System Restore & Other Tools
Here you can remove the system restore points created by windows, this will surely free up a lot more space. Unfortunately, you can't select to create a restore point or restore windows from here. Ccleaner also includes include exclude feature, with this you can include/exclude any file or folder for the next operation viz cleaning, deleting, etc. You can also manually select the internet cookies to delete. On top of the interface, it displays the version, windows version, and the system configuration. The Tool tab also features new file shredding and drive empty space wiping tool to securely delete data.
On the overall, this free tool is very useful and has must-have features. Using this you will definitely experience some boost up in speed and performance of windows. CCleaner supports both 32bit and 64bit versions of windows and latest Windows 7, soon coming windows 8 too. Piriform has been adding supports to much more software. Finally, as I discussed here the leak of information about CCleaner 3.x, which is as expected :D
Download CCleaner
What do you say? Did you like the new CCleaner 3.0? We would like to hear your experience. I know you have something to say (",)
Shekhar Sahu
shekharsahu.co
Hand Picked Related Post